The Noralis Integrated Software Environment (NISE) is a single software platform unifying MWD software functionality into a single package.  Jam-packed with features NISE does much more than display a tool-face and survey.
HUB Direct (online cloud database holding firmware, software, and feature files)
Downhole Memory & Surface Memory consolidation.
NISE keeps the traditional components of a traditional MWD decoding software system:
Display common MWD software elements, tool-face rose, pulse signal, data listing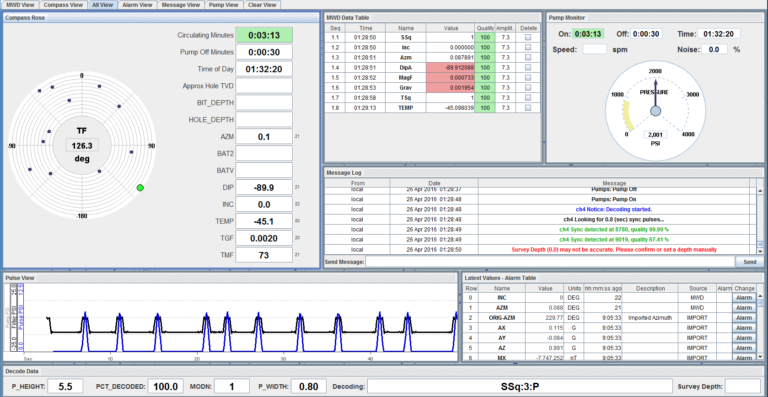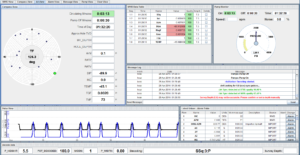 Customizable fields to input basic well information (control what data you want stored)
Transmit and Receive WITS
Report out surveys, data listings, decoded data, etc.


Field Operations
Launch NISE Control and choose a task from the start-up wizard:
Start a New Well

Restricted to just the operator (not common)
Share locally (any PC on the network running NISE can access the well)
Share to the HUB (any PC running NISE and connected to the HUB with the appropriate credentials can view/edit the well)

Monitor an Existing Well

Locally (Great for Company Man or Rig-Floor, restricted functionality)
Remotely (Great for clients, office personnel)

Control an Existing Well

Locally (if NPD is on the rig floor connected to the RFD)
Remotely (if running remote operations with no personnel on location)
NISE can also:
Instant Message

Running a job remotely and need to communicate with the drill floor?  Type them a note which pops up on their screen.

Replay Well

Replay the entire well database or replay signal files when troubleshooting difficult decoding situations.  NISE records exactly what the user did.

Lock

Input a password to restrict operations when running a single NISE copy of software on the rig-floor

Surface Test

No need to pack another box to simulate a pulse signal.  When connected to the NDM with NISE select this mode to have the tool start pulsing and decode data before running in hole.

Roll Test

A simplified field roll test is available to provide quality assurance prior to putting tools in the BHA.

Downlink Wizard

Have the driller click the downlink wizard to follow step-by-step on-screen the pumps on/off sequencing.  NISE senses the pump pressure and switches modes if the task was executed properly

Custom Data Entry

Utilizing "Feature" files is a great way to gain consistency with data input.  Available to person's in charge managers can change/add/edit which data types they'd like users to input at the start of each run/well.  Share the feature file to the HUB and automatically any employee using NISE will be synced with the latest data files.

Alarms

Great for remote operations centers or even on location.  Apply an alarm to any type of transmitted or drilling parameter.
Shop Operations
Utilize the same software (NISE Control) and start testing.   
Customize your Roll Test

Selecting the "Shop" Roll test allows for a more complete Roll Test
By default includes 8 positions per azimuth (N, E, S) as well as vertical for full roll test results
Change shot positions, number of shots to take, stability boundaries through the Options Menu or the MS Excel based root configuration file

Live Stream

Available for both shop and field users, view live streaming data of all 27 sensors updated once per second

Memory Dumps

Perform tool memory dumps and use the same software for advanced graphing options
Set up advanced high-speed logging intervals

Graphing Options

Set up high-performing default graphs.  Share with the HUB, any user in the "shop" team has access to that exact graph and graph settings.  Gain consistency on your QA/QC process

Re-charge the HASP's

Concerned with who can re-charge the HASP?  Set up a "shop" team with rights to recharge units.
---
Related Features
Documentation
| | | |
| --- | --- | --- |
| NISE Brochure | Version: 1.0 | View |