Parent Product: Noralis Directional Module (NDM)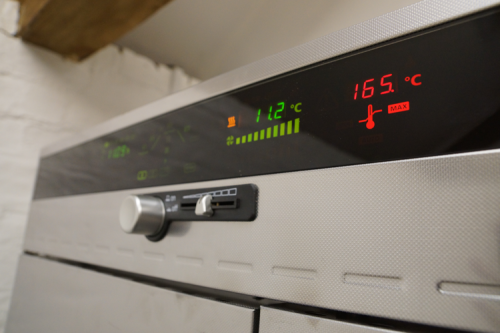 Noralis powerful memory and logging capabilities records over 65 variables every 20 seconds.
Axial Shock & Vibration (Counts, Peak, RMS)
Lateral Shock # Vibration (Counts, Peak, RMS)
RPM, Change in RPM, Torsional Vibration
All 27 sensors & standard deviation values
Noralis also stores:
Gamma Ray Data every 5 seconds
Every survey taken after pumps turn off
Each pulsed mnemonic
Bit Run & Lifetime Logs
Immediately available on rig-site, a bit-run log can help recover lost revenue and/or modify BHA & drilling parameters prior to the next run.
Download directly into the Noralis Integrated Software Environment (NISE) using a single tool interface cable (NTI).
Quickly analyze and graph memory logs in the same software.  Compare to decoded values, produce .las logs.  Full functionality available in the same software running the job.
Forget to back-up the database?  The Noralis HUB keeps track of all downloads and tool interaction with an active internet connection.
Bit Run & Lifetime Logs
Noralis memory stores both a life-time total and clearable bit-run data log.  In cases where users never clear or download memory, this data will continue to increment.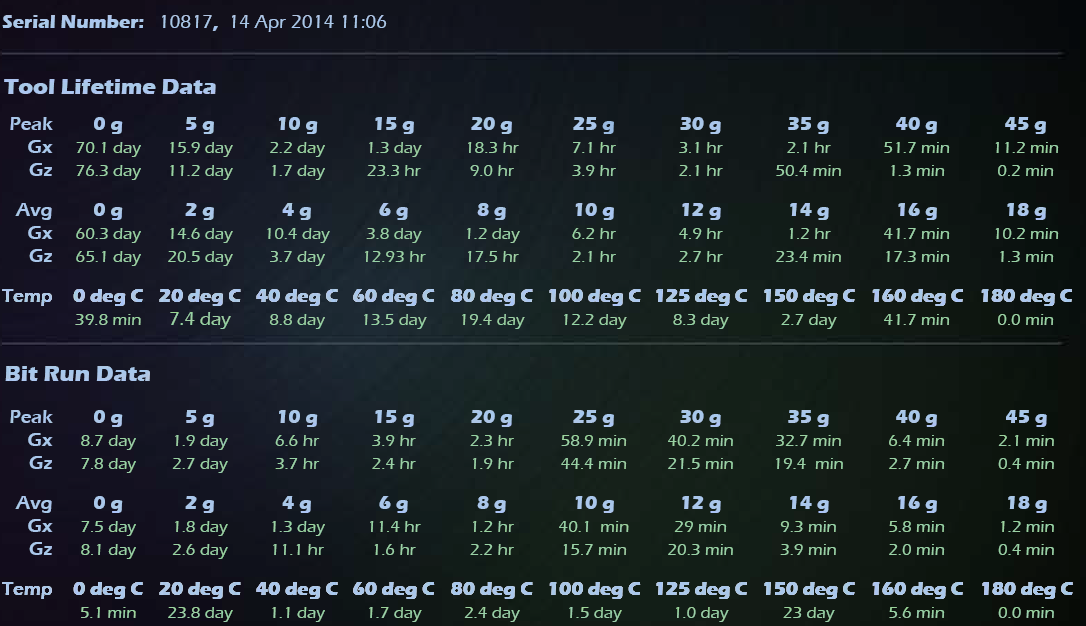 Effective Hours @ 100° C
Not all downhole hours are the same.  At Noralis we try to simplify understanding the life-cycle of tools.  
By using temperature Noralis transforms the downhole log data into an "effective" hours metric.  For every 10° C over 100° C the effective hours are doubled.
The example below shows a tool heated to 100° C.  Each hour below 100° C is added to the effective hours at a 1:1 ratio.
Highlighted values demonstrate effective hours over 100° C.
74.4 hrs @ 0-100° C = 74.4 hrs
0.3 hrs @ 110° C *2 = 0.6 hours
36.7 hrs @ 120° C *4 = 145 hours
The total effective hours = 220


Giving our customers the tools to calculate an effective hours rate provides better visibility on tool life.  Once an effective hours life is established the HUB can automatically notify users when tool's exceed the determined thresholds.
Memory Data Usage
12 megabytes (40% of 32-megabytes total) is reserved for the "Run Log".  Every 20 seconds the NDM records over 65 data points.  More than 20 points  are dedicated to understanding the drilling environment.  Good for 20 days.  In addition 12 unique parameters may be telemetered via real-time telemetry if using a Noralis Pressure Decoder (NPD).
8 megabytes (25%) of the NDM memory is reserved for the "State Log".  Each transmitted mnemonic, flow status, and raw variables associated with surveys are recorded.   Good for 18 days.
Noralis reserves the remaining 35% of memory for future advanced features.
If a user chooses to not clear or download the memory after a bit run the most recent data is always kept and the older data is discarded.
---
Related Features
Documentation
| | | |
| --- | --- | --- |
| Brochure | Version: 1.0 | View |