Imagine someone who uses a toll road semi-regularly to commute to work.  They estimate they will use the road 15 days a month.
They have two options.
Pay $1000 for unlimited use
Pay $1.00 per day used (est. $15 per month)
Which would be preferable?
Pay up Front:  Keep the average for 5.5 years and the usage after is free.
Pay each Trip:  Move, change jobs, drive less, and save the difference in price.
Consider the oil-field market.  Boom and bust cycles, do you still want to be paying for assets that aren't on the job working?
If you like smaller costs up front this is the right option for you.  Be sure to check out the philosophy behind offering such a radical alternative to traditionally priced MWD equipment.
#1 - Upfront Cost

Pay a modest up-front cost for the equipment you're purchasing.

#2 - Credit

Determine the amount of credit you'd like included with the equipment.  If you're not sure don't worry; this can be done later.
Pay-as-you-go allows customers to save over 60% off purchase cost.
Not lease-to-purchase, monthly financing, or renting, the customer owns this equipment.
If the MWD kit isn't generating revenue the equipment has no additional cost to sit idle. Even when the kit is active, backup equipment isn't costing anything while standing by.
Noralis has a lot of built-in features embedded into the Noralis Integrated Software Environment (NISE).  A typical job may require:
2 x Surface Units

1 Primary - ~$17,500
1 Back-Up - ~$17,500

2 x Gamma Logging PC's with Software License or "Key"

1 Primary ~$10,000
1 Back-Up ~$10,000

1 x "Remote Operations Box"

1 Server ~$10,000
1 Service Fee per well (TBD)
The Noralis approach with a pay-as-you-go strategy.
2 x Surface Units

1 Primary, 1 Back-up  (66.67% discount)
Small Day-Rate "decoding" charge

No gamma software license or Key

Small Day-Rate "logging" Charge

No "Remote Operations Box"

Small Day-Rate upload/remote charge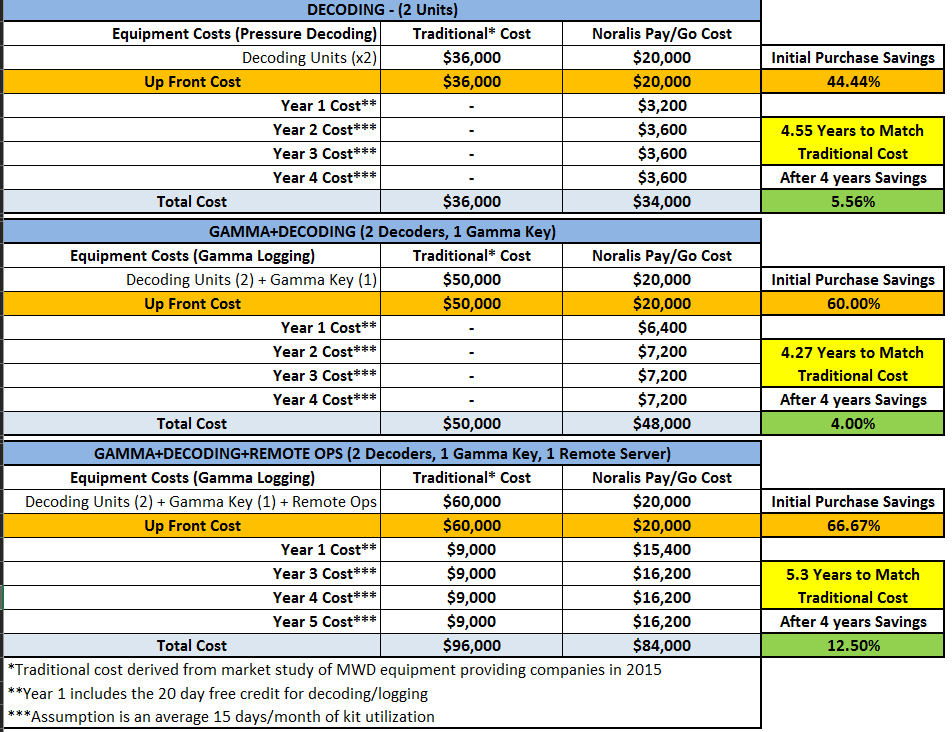 The first job costs 45-67% less than the traditional cost, freeing up to ~$40,000 for other purchases.
NISE has other goodies as well.  Short Collar Correction algorithms are becoming more commonplace.  MWD Remote Operations are coming online.  NISE eliminates 3rd party software, bolt-on's and includes these directly in the integrated environment.
Still not convinced or prefer to spend the capital up-front?  See the traditional purchase page.